Hyperfocal Distances
Feel free to print these tables out and keep them for reference. You need
to check in your manual as to which type of sensor your camera has.
The hyperfocal distance is, for a given set of parameters (f-stop and focal
length of the lens), the minimum distance at which you can focus the lens
and get everything from that distance to infinity within a reasonably sharp
focus. Also everything from that point to half way back to your camera
will be in focus.
Hyperfocal Distance Table for Cropped Sensors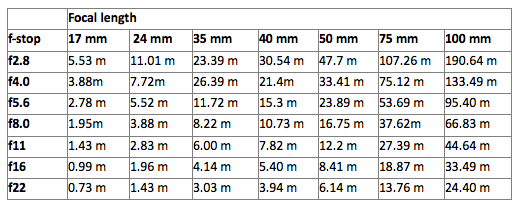 Hyperfocal Distance Table for Full Frame Sensors