Poaching and related events in Eastern and Southern Africa 2017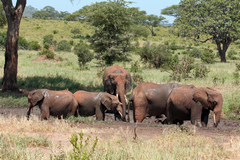 Although the Chinese market is now closed
we are still losing around 20000 elephants a
year to poaching

One of the headline events of 2017 was the announcement by China that they would end the sales of Ivory completely by the beginning of 2018. I am pleased to say that they have kept their word and it has now been implemented.
This is much more than can be said for the UK which has dithered and prevaricated on the issue and continues to do so into 2018. Consultation processes have been launched and having looked at the documentation I am convinced the government is biased in favour of continuing the sale of ivory by leaving various loopholes open in possible legislation.
Britain was the world's largest exporter of legal ivory between 2010 and 2015, a breakdown of records held by the Convention on International Trade in Endangered Species (CITES) has revealed. Not only did the UK export more ivory than anyone else to Hong Kong and China – which are considered smuggling hubs for "blood ivory" – it also sold on 370% more ivory than the next highest exporter, the USA.
Singapore has committed, in March 2017, to banning the sale of Ivory by 2021, but we have yet to see words being replaced by firm measures to initiate this undertaking.
Japan continues to refuse to budge on the idea and also refuses to admit that any of the ivory that it sells may be laundered, despite plenty of evidence to the contrary.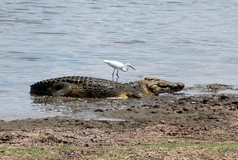 Crocodile poaching has exploded in Egypt
since 2008. Populations are down by more
than half
A report, compiled by TRAFFIC with the support of the World Wildlife Fund, says 2.42 tonnes of ivory – including elephant tusks, antiques and jewellery – were illegally exported from Japan, mostly to China between 2011 and 2016.
The report also says researchers found antique dealers were buying a large number of elephant tusks in Japan that were not registered, even though owners are required to show proof that the items were not bought after the international ban on the ivory trade came into effect in 1989.
CITIES. Convention on International Trade in Endangered Species of Wild Fauna and Flora
As ever CITIES let everybody down in October 2016
A bid to give the highest level of international legal protection to all African elephants was defeated at the CITIES summit in Johannesburg. The EU along with Namibia, South Africa and Zimbabwe blocked a proposal to add the elephants in Namibia, South Africa, Zimbabwe and Botswana to appendix I from Appendix II. Botswana voted in favour of the proposal.
Elephants in the rest of Africa are already on Appendix I. Appendix I includes species threatened with extinction. Trade in specimens of these species is permitted only in exceptional circumstances.
Appendix II includes species not necessarily threatened with extinction, but in which trade must be controlled in order to avoid utilization incompatible with their survival.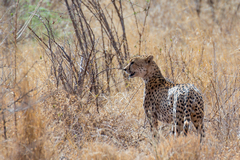 There are only 7100 cheetahs left in the wild.
They have lost 91% of their historic range.
As well as being persecuted by farmers,
many cubs are taken for sale in Middle
Eastern countries as novelty pets
Bushmeat poaching continues to be a huge and largely unreported problem all over Africa. Millions of animals are illegally killed each year for human consumption.
Some examples are: A UN Conservation Program (UNEP) and World Conservation Monitoring Centre (WCMC) joint report indicates that at least 200,000 various animal species are killed annually in the western Serengeti.
More than 1,200 traps targeting both big and medium-sized wild animals were found in Meru NP (Kenya) during a de-snaring operation by the Kenya Wildlife Service (KWS) and the Born Free Foundation in June 2017.
Liwonde National Park in Malawi reached a milestone in February 2017, recording the lowest numbers of snares, counting 395 in February, and 1,880 in total for the previous year. The park has come an extraordinary way since recovering 2,043 snares in February alone in 2016.
Botswana is not normally associated with high levels of poaching, however the report finds that illegal bushmeat hunting is occurring at a significant scale in the Okavango Delta. "The large quantities of bushmeat reported by some hunters suggests the existence of an organised commercial element to the industry, with capacity to harvest, transport and dispose of significant volumes."
Approximately 1,800 illegal hunters are estimated to be each harvesting 320kg of bushmeat annually, raising concern that the commercialisation of the bushmeat trade could be the first step towards a more organised wildlife crime syndicates that targets lions, rhinos and elephants.
It is beyond the scope of this page to do an analysis for every country this year as information is very scarce. Some governments, ie. South Africa, are actively 'sitting on' relevant figures, no doubt to hide their embarrassment.
However some information is available so I will lay it out here.
Kenya. Overall it is good news for elephants. The elephant population is showing a year on year increase of 2.6%. Less than 60 elephants were lost to poachers. Rhino poaching has remained very low with only 9 rhinos killed in 2017. Bushmeat poaching is a major ongoing problem.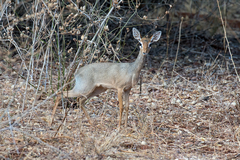 Bushmeat poaching reduces the prey base
for carnivores which leads to more instances
of them taking cattle, or goats. The ensuing
retaliation by herders gets the carnivores
killed The last year was marred by politically inspired unrest between cattle herders and ranchers and conservancy managers in Laikipia. The mostly Pokot and Samburu herders attempted a 'land grab' under the pretext of lack of grazing, and they killed elephants, buffalos, giraffes, lions and various other game for little or no reason. Exact figures are unavailable. Much of Kenya's Northern rangelands have been severely overgrazed by cattle sheep and goats.
Tanzania's National Task Force for anti-poaching, comprised of the highly effective National & Transnational Serious Crimes Investigation Unit (NTSCIU) and the Wildlife & Forestry Crime Task Force under the Ministry of Natural Resources & Tourism, continues to make landmark progress in reducing wildlife crime. Several major players have received long prison sentences.
Some NGOs such as STEP (Southern Tanzania Elephant Program) and PAMS Foundation (Protected area Management Solutions) Tanzania have noted a decline in poaching numbers in the Ruaha Rungwa ecosystem and in the Ruvuma corridor between Selous and Niassa in Mozambique. Working on ratios of carcasses to live animals and from observations of staff on the ground they estimate a minimum of two thirds national decline in elephant poaching since the annual averages of the preceding six years to 2015.
Mozambique is not doing enough and is experiencing far too much corruption in its government and judiciary.
The problem is still the complicity of officials at all levels in government to aid and abet poaching networks. They increasingly use Mozambican ports such as Pemba, Nacala and Beira to transfer illicit ivory consignments to Asia.
Ivory poaching continues to be out of hand. This is illustrated by the plight of the elephants in the massive and remote 42,000 km² Niassa National Reserve. Rampant commercial poaching has caused elephant populations across the reserve to plummet by more than 70 percent. In 2012 there were 12,000 elephants here; in 2016 only 3,500 remained. Since then efforts are being made on the ground to afford them greater protection but much more needs to be done.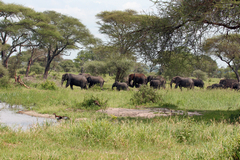 Ivory poaching in Tanzania is down by at
least two thirds. Selous is said to be much
quieter in the tourist areas with planty of
elephants showing. Mozambique is still bad
although Gorongosa NP is a bright spot
On the plus side, the Kruger National Park and Mozambican authorities are collaborating in a bid to clamp down on rhino poaching.
Poaching activity in Gorongosa National Park (GNP) in central Mozambique has fallen by 72 percent since the beginning of 2017.
Prosecution of poachers remains low, and most fines are never paid. Very often evidence such as ivory and or rhino horn simply disappears.
There is also an ongoing huge bushmeat problem.
Malawi has been getting tough with very stiff new penalties to twenty years+ for poaching offences. Increased protection of more of the country's National Parks by African Parks has been a welcome development.
As mentioned earlier AP have recovered thousands of bushmeat snares from the National Parks, but they are reporting very much reduced levels of poaching and no rhino or elephant losses in the areas they manage.
Zimbabwe has reported a total of 251 elephants have been killed due to cyanide poisoning since 2013 as the country continues to battle with the scourge of poaching which is threatening Zimbabwe's wildlife heritage. The knock on effect is that many other species are killed by eating carcasses containing cyanide.
Possibly the recent change in government may help. The new government in Zimbabwe has taken a no nonsense approach to conservation and vowed to arrest any person's implicated or involved in poaching 'regardless of who they are, or who they know'.
Botswana now has the largest population of elephants in Africa. Cross border movements have declined in recent years. One reason appears to be that more herds have opted for settling in Botswana than returning to their former ranges in countries to the north, where they know that poachers are a grave threat. It is now starting to cause a problem with environmental destruction as the numbers are so concentrated.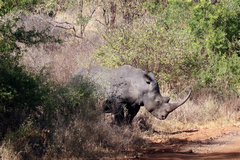 About 100 rhinos are being moved to safe
locations in Botswana. It is hoped to
establish breeding populations of both black
and white rhinos here. Botswana has a much
lower incidence of poaching than South Africa There is a current surge of poaching within Botswana. Large mammals are the targets – elephants, giraffes and buffaloes – and the reasons for the poaching are for meat as much as for ivory. One researcher claimed that 600 tonnes of game meat had been exported from the Gcwihaba Hills area alone.
Communities are said to be developing negative attitudes toward conservation since they feel they cannot conserve what they do not benefit from directly, since all hunting was banned in 2014, and they are subject to many instances of crop raiding.
South Africa. It is now legal in South Africa to trade rhino horn domestically, after this country's Constitutional Court recently overturned an eight-year ban on domestic trade, based on a technicality. This will surely help drive rhinos to extinction in the wild.
There was a sale of privately owned rhino horn in August 2017. The odd thing for a DOMESTIC sale was that the sale was also advertised in Vietnamese and Chinese! The International trade in rhino horn is still banned. Draw your own conclusions.
The usual tired arguments were rolled out: It would aid conservation by putting more horn on the market. It would depress the market price of horn. Poaching would decrease as there was a legal source of horn. Part of the proceeds would go towards conservation.
Auction results where said to be 'disappointing'. I can find no evidence of any extra money going to wild rhino conservation. Rhino poaching figures have not dropped in 2017 as far as have been reported.
Nobody appears to want to learn from the lessons of the Ivory sales of 2008 which catalysed the current ivory poaching crisis.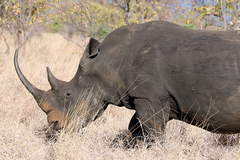 Rhinos continue to be perilously close to
extinction. Poaching has eased a little in the
Kruger NP but has increased to its highest in
a century in KZN, mostly in Hluhluwe-iMfolozi
ParkThe numbers of rhino poached in 2017 have now been released and the number is given as 1028. Official elephant poaching figures are not available either but there is an increasing trend with at least 67 poached in Kruger alone.
In September 2017, TRAFFIC revealed disturbing new evidence of criminal networks of Chinese origin operating in South Africa processing rhino horn locally into beads, bracelets, bangles and powder to evade detection and provide ready-made products to consumers in Asia.
There is some serious corruption in government as observed in the way that the trial of rhino poacher Dumisani Gwala has been delayed 17 times so far and he boasts he will never be imprisoned.
Efforts to address rhino poaching appear to be hampered by the dysfunctional National Prosecuting Authority and Crime Intelligence division of the South African Police Service (SAPS), two of the country's main crime fighting institutions.
Namibia seems to be getting to grips with its poaching problems. In 2016 there were 63 rhinos and 101 elephants recorded as poached but by October 2017 these numbers had fallen to 27 rhinos and 20 elephants for the year.
However, desert adapted lions (of which there are only about 150) are being killed by farmers and trophy hunters, without any reliable data regarding age and sex distribution being used for guidance..
A report by Dr Flip Stander says "The long-term viability of the Desert lion population has been compromised by the excessive killing of adult and sub-adult males. There is an urgent need to adapt the management and utilisation strategies relating to lions, if the long-term conservation of the species in the Kunene were to be secured."
An honorary mention for Gabon. The UK sent 16 soldiers to help train park guards. However,they are working alongside overworked and unarmed staff – many going into battle in sandals or flip-flops – against poaching gangs who carry rocket- propelled grenades and AK47s. The government is reluctant to arm them full time. The forest elephants are being very hard hit. Far too little is being done to protect them.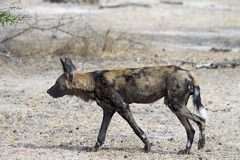 Some animals need large spaces to thrive
and in areas with large seasonal weather
variation, just to survive, by migrating. As the
human population increases and the
wilderness becomes more and more
fragmented, the likelyhood of human wildlife
conflict vastly increases Pangolins are still the worlds most trafficked animal, and are used in Chinese medicine.
In January 2017 Cameroon's Ministry of Wildlife, aided by LAGA, arrested two Chinese nationals in Doula with5 tonnes of scales. Also inJanuary , 6 tonnes destined for the Asian markets were seized in Tanzania by the Uganda Wildlife Authority and LATF. Likewise, just before Christmas, Shanghai Customs seized over 3 tonnes of pangolin scales and Cameroonian customs seized over half a tonne of scales being exported from Yaoundé destined for Malaysia.
Altogether, more than 14 tonnes of pangolin scales were seized in just four seizures, in the space of a month, accounting for over 20,000 pangolins, emphatically highlighting an illegal trade completely out of control.
People power through the use of social media is on the increase. More Africans are standing up and saying 'enough'. They are realizing the value of their wildlife to their economy.
I hope we have turned a corner from the bleak days of 2014, but I see loomimg problems as populations continue to explode, more people take bushmeat, and human wildlife conflict increases. Problems especially with predators that have lost their prey base, and problems as space for those animals left becomes more and more restricted.
Also there is worrying news of a Burgeoning ivory marked in Laos as dealers try to dispose of stockpiled ivory from Thailand, Vietnam and China following the closure of China's market.
The richer countries of the world should be committing far more funds towards conservation at a governmental level, and not relying on NGOs and charities to do the work. There is no plan 'B' for planet Earth. We should be its stewards not its destroyers.