There are eight species of baobab: one in Mainland Africa, six in Madagascar and one in Australia. The one in Tanzania is Adansonia digitata and is the largest at up to 30m tall.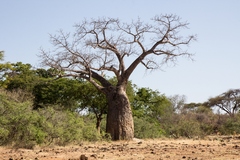 Baobab in Meru. The enormous bole is very
soft and pulpy and can store thousands of
litres of water which helps the tree to survive
prolonged periods of drought
Tarangire National Park is the best National Park in Northern Tanzania for those wishing to see and photograph the baobab tree. Ruaha National Park is the best in the South.
The semi arid regions of Kenya such as Meru National Park also feature a lot of baobabs
The lifespan of the baobab is very long, with most of the large trees in Tarangire being over 1000 years old. It is difficult to age them without radio carbon dating as they don't produce annual growth rings.

A really nice specimen in Selous. The bark
is relatively smooth as it has not been
attacked by elephants too often One in South Africa was dated at around 6000 years old.
The trees do not have leaves for around nine months of the year, throughout the dry season, and according to a legend of the Bushmen, the tree offended God and so he plucked it out of the ground and planted it back in upside down, leaving the roots exposed instead. Leaves are borne at the ends of branches, usually divided into 5 leaflets and attached to a single point.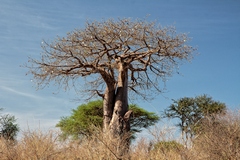 A baobab in flower in October, in anticipation
of the coming rains due any time in Meru
It is adapted to life in seasonally arid areas. It can store up to 120000 litres of water in its very large trunk and can withstand long droughts, and has been known to survive for ten years with no rain. The tree's diameter actually decreases in the dry season as it uses up stored water.
At one time it was thought that baobabs were becoming extinct but then it was found that young trees do not resemble adults at all.
The baobab is sometimes known as the Upside Down tree
Elephants like to eat the bark of the baobab during the dry season to obtain moisture from the trunk's reserves. Many trees bear deep gouge marks and have odd shaped trunks due to the ravages of the elephants. However the damage very rarely kills them.

Here you can see the green flower buds, a
white flower and a brownish dead flower which
smells bad
The Baobab does not suffer from ring barking and can regrow bark if damaged by elephants. The bark is smooth if the tree is left alone by wildlife although most aren't.
The white flowers emerge in the late afternoon from large round buds on long drooping stalks from October to December. They are up to 1ft long and open at night in the wet season and are pollinated by fruit bats and bushbabies. The flowers fall within 24 hours, turning brown and smelling bad.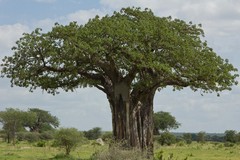 A baobab in full leaf in Tarangire in the wet
season (February). Tarangire is the best
place in Northern Tanzania to see these
magnificent trees
The tree produces fruits that are around 18 cm (around 7 inches) long and which are very nutritious, with high concentrations of calcium, magnesium, potassium and six times as much vitamin C as oranges. They are very high in antioxidants. They are particularly enjoyed by humans, baboons and monkeys.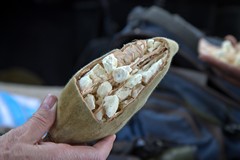 The large green fruit contains a whitish
sherbert like substance which is very
refreshing. At the centre of each piece there
is a large brown or black seed The Fruit is a large, hair covered, egg-shaped capsule and it has a hard, outer shell and contains a dry, off white pulp which covers the hard, black, kidney-shaped seeds. A drink tasting like lemonade is made from this pulp.
The pulp also makes a porridge, the seeds are used as a thickener for soups, and leaves are eaten as a vegetable or in soups. Fibres from the inner bark are used to make rope and string for basketry, as well as for making beehives. Trunks that have been hollowed by lightning or by humans have been used as a pub, toilet, prison and bus stop. The roots produce a dye. Hollowed out trunks have been used as water tanks.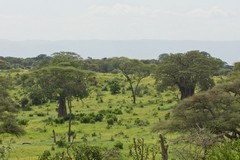 Baobabs feature prominently in the Tarangire
landscape
Roots, bark, leaves, fruits and seeds are used medicinally for an enormous range of ailments, including iron deficiency, digestive system disorders, infections and skin disorders. Baobab is also used in veterinary treatments.
When a tree dies is quickly decomposes into a heap of soggy fibrous pulp due to its peculiar structure.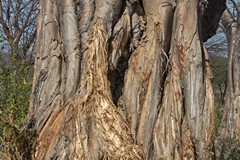 The wood of the baobab is very soft and
fibrous. When the tree dies it disintegrates
into a pulpy mass within a few weeks
The baobab also has some magical uses. It is said that a drink made from soaking the seeds in water will protect you against crocodiles, and that many of the flowers are inhabited by spirits. Anyone who plucks the flowers will be torn apart by lions.
All in all a very iconic African tree. There is some worry about them long term however, because the young ones need to be left alone for many years to establish. As elephants are becoming more and more restricted to where they can live they are not giving the new trees long enough to grow unhindered, and so there appears to be a shortage of smaller Baobabs.