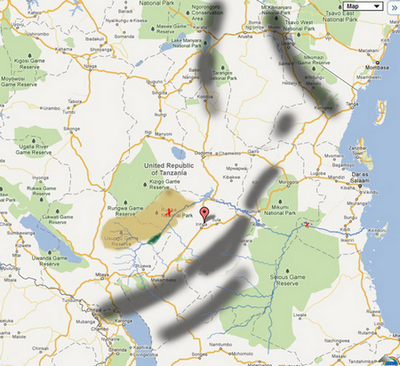 Selous Game Reserve Revisited Part 1
This safari video was taken in Selous Game Reserve in late June and early July just as the last showers of rain were dwindling away. The red 'X' on the map of Selous shows the approximate position of Selous Impala camp.
Game viewing was not as intense as in September, as the park was still quite green and there were seasonal waterholes available further away from the river. Consequently the animals were not yet congregating on the Rufiji river and we had to look harder to find many of them. This was no great detriment as we saw other areas of Selous and also spent more time looking at the smaller animals and many different types of trees and plants.
This video features lions and elephants and discusses the issue of poaching.
The grey lines on the Map indicate the position of mountainous areas which capture the incoming rainfall from the East, and cause Selous to have much highter rainfall than Ruaha.